Break out the twinkle lights. Crank up the patio speakers. Pour the sangria. We're dishing out tips on how to Take It Alfresco.
Chic outdoor spaces are hands down the crown jewels of summer entertaining. While some people are blessed with grassy lawns and enviable roof decks, others are working with much tighter spots (fire escapes count, right?). Here's how to spruce up your own fresh-air haven, regardless of where it falls on the size spectrum.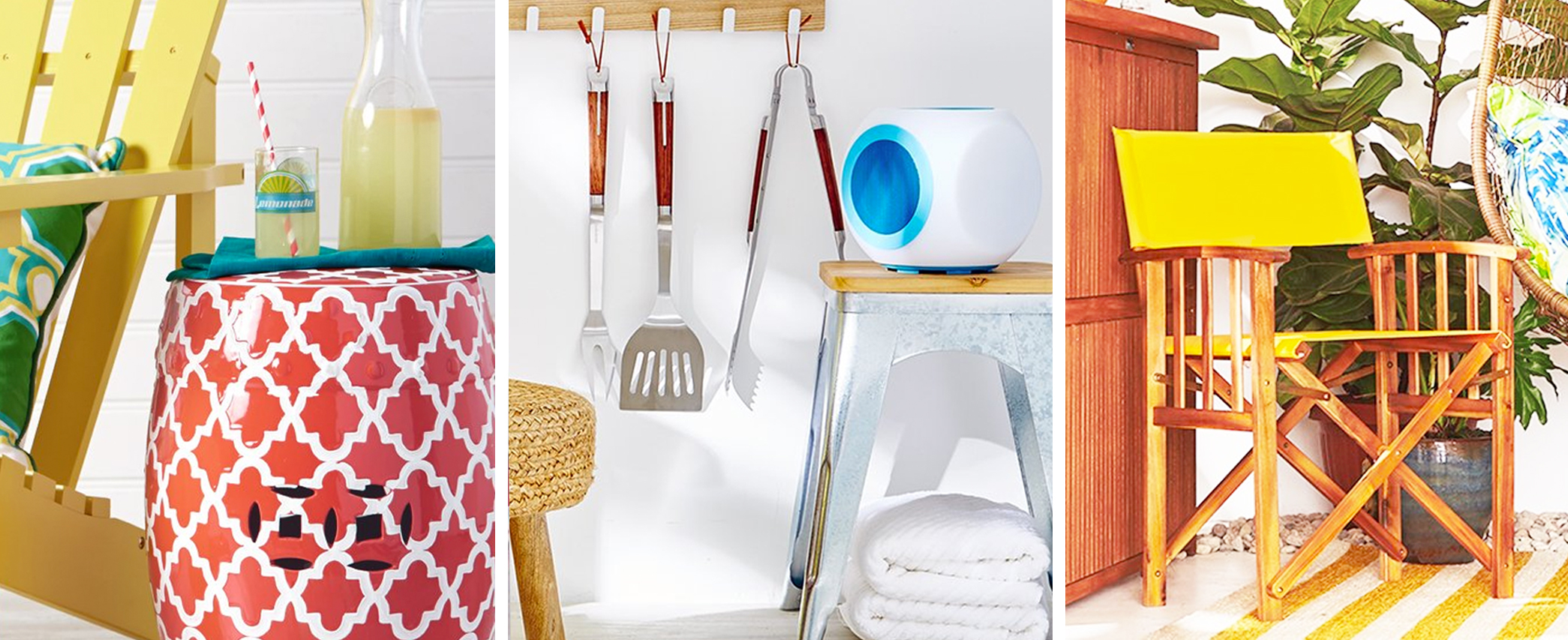 Step 1: How Much Can Fit?
Don't just assess how much patio furniture will fill the space. Consider every little extra nook and cranny for added square footage – and, of course, collect pieces that pull double duty.
The Goods
Ceramic and wooden stools. Not only are these a trend with timeless appeal, they comfortably serve as side tables, too. Oh, and did we mention they're super easy to move around?
Creative storage. Think: a trellis or wall hooks to hang grilling tools, benches that showcase your potted plants when out of use, and smart shelving to keep gardening supplies tidy.
Stacking and folding chairs. We're not talking the plasticky kind from decades past. The latest crop boasts woven, cafe-style, and director-inspired chairs that jump off the page of a design mag.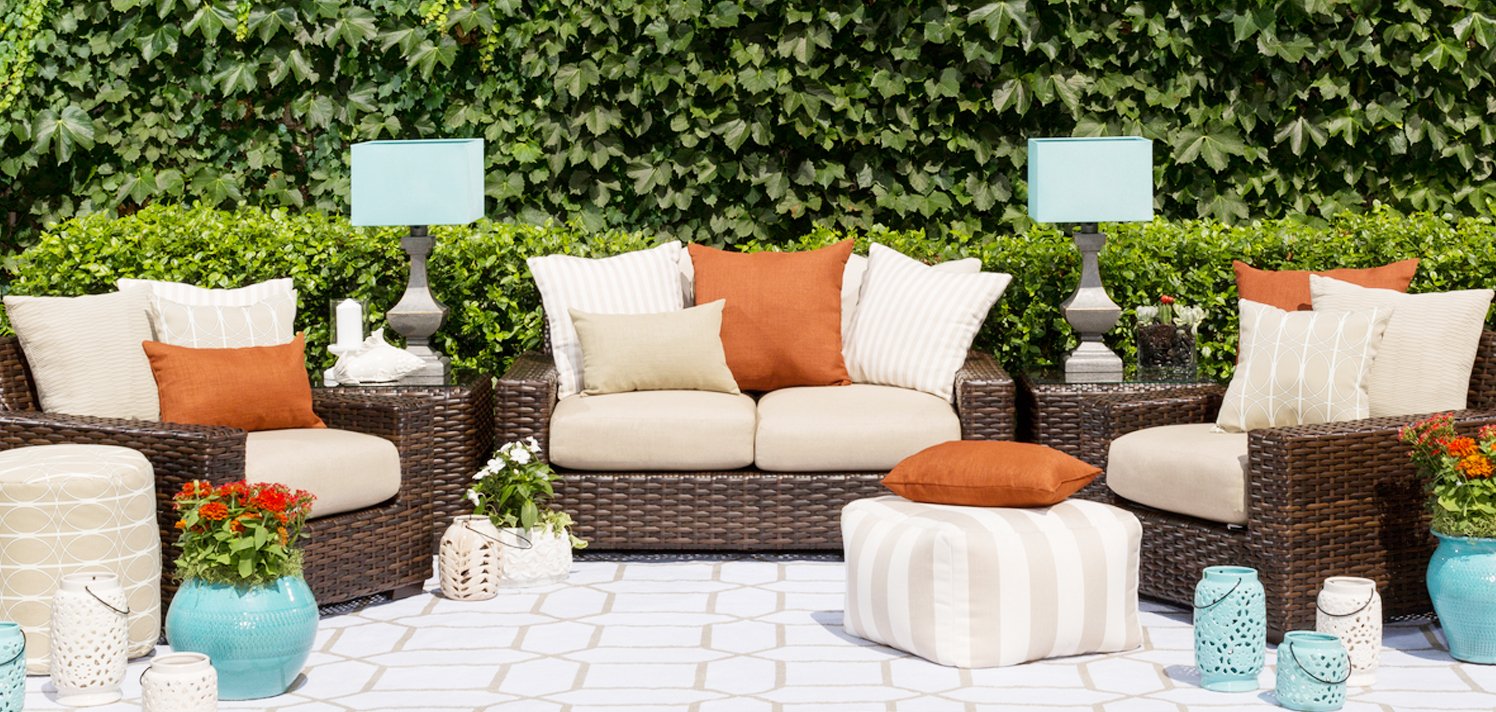 Step 2: Make It Cozy
Name your favorite indoor spot to lounge. We'll bet that it's covered in pillows. Because who doesn't want plush surroundings when they're kicking back with friends?
The Goods
Fluffy pillows in every shape and size. Make weather-battered seating more comfy with brightly hued linen ones, or invest in one or two Moroccan leather poufs that double as ottomans and can even support a tray for snacks.
An outdoor rug. It's not an alfresco living room without one. (Yes, shoes are optional.) And if you're craving some pattern and color but don't want to care for a rug, might we suggest painting a tile-inspired design on your concrete patio or pool deck?
Something that provides shade, like an umbrella or a textile canopy. Now you can nap outside, sans the awkward sunburn.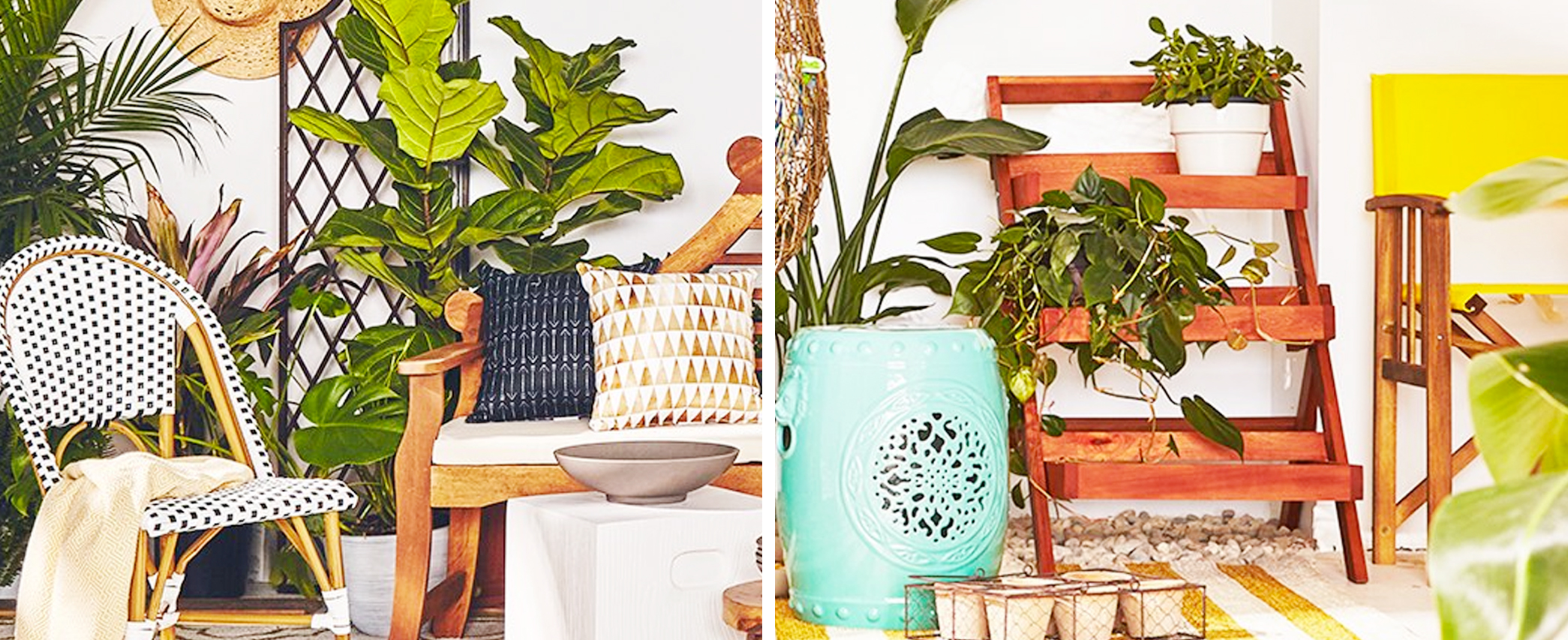 Step 3: Go Green
It doesn't matter whether you have a slice of balcony or a sprawling backyard – alfresco living will always feel more lush with plants.
The Goods
Vertical gardens. Mount one against a wall, or install hanging planters. It's the most eye-catching way to create privacy and capitalize on limited space. If your greenery is in full sun, consider drought-tolerant plans like cacti and Mediterranean herbs. (Building up – versus down into the ground – tends to dry out plants.)
Living centerpieces. We're calling it: This entertaining-slash-décor trend is going to hang out for a while. Fill up a statement vessel with whatever suits your fancy, from succulents to dainty blooms. Bonus points if you squeeze some tall candlesticks or small lanterns in there for dinner parties.
Herbs. And no, you don't need a full-fledged yard to plant some. Even a roomy windowsill can accommodate some strategically placed pots of basil, rosemary, and mint. Mmmmm, breathe it in, folks.
By Susie Kostaras, Managing Editor