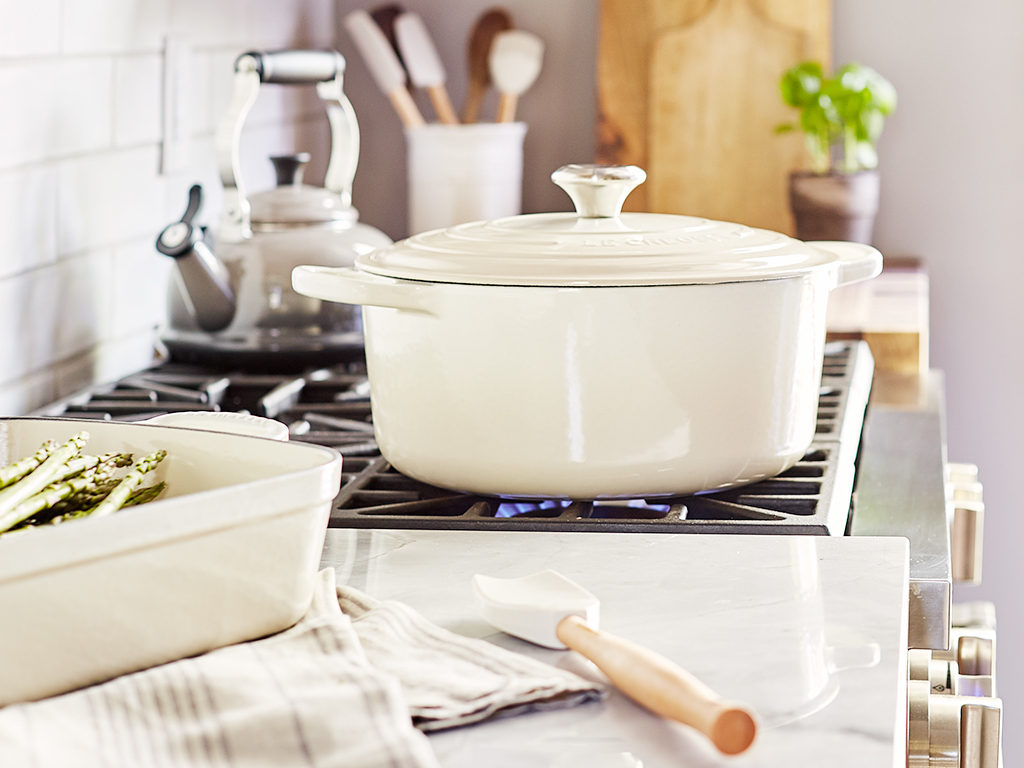 Credit: Rue La La
I remember the first time I ever made coq au vin in my new Le Creuset. It was in the fall five years ago, and I was throwing a dinner party for my friends and my then-new boyfriend, who would all be meeting for the first time. I had also never attempted to make Julia Child's coq au vin before, so I don't think it needs to be said that I had a couple of reasons to be nervous.
For as long as I can remember, cooking has been my way to de-stress, to unwind, and to find peace. When I had no money and was living in New York on an intern's nonexistent stipend, I'd spend weekends (and my money) baking in my tiny galley kitchen that overlooked an air shaft. When I have a tough day at work, the rhythmic motion of chopping vegetables helps to clear my head. When the weather is cold and rainy and I just can't seem to shake the gloom, the smell of onions and garlic browning in butter is like a beam of sunshine radiating from my stovetop.
So, on that autumn day as the hour of my guests' arrival drew closer, I stood over my Le Creuset Dutch oven and rendered thickly cut pieces of bacon until they were crisp. I browned the chicken in the fat and deglazed the pan with fragrant Cognac. Then came the wine – two cups of Côtes du Rhône, swirled into the sauce – and I was instantly transported to Julia Child's cuisine in Paris. As cliché as it sounds, I lost my anxiety in the preparation of this meal (actually, I had almost entirely forgotten about the dinner party altogether). The preparation, the aromas, the rituals of sautéing and deglazing, and doing it all alone in my kitchen – this is my own version of therapy.
I gently covered the simmering stew with the Dutch oven's lid and continued getting ready for the party as the smell of chicken in wine, onions, and garlic wafted through my apartment. An hour later, I came back to a dish that I knew would be the hit of the night, and guess what? It was. (What a terrible story this would be if it wasn't!)
The party was a success. Everyone liked everyone else, and (most importantly) everyone went home full. Since then I've made a hundred more dishes in my lovingly worn Dutch oven, and every cooking experience is always as soothing and enjoyable as the last. But I'm a sentimental soul, and an amateur cook never forgets their first coq au vin – or their first Le Creuset.
Want to experience cooking with Le Creuset for yourself? Head to our Instagram page or click here for a chance to win a two-piece Le Creuset set featuring a Signature saucepan and a Heritage square casserole in their brand-new color, meringue*!
By Emma Lifvergren, Staff Writer

*NO PURCHASE NECESSARY. Purchase does not improve your chances of winning. The Le Creuset + Rue La La Sweepstakes is open to residents of the 50 United States and D.C., ages 18 or older, or the age of majority in legal resident's home state at the time of entry. Void outside the United States, in Canada, in Puerto Rico and wherever else prohibited by law. Entry period begins at 3:00PM ET on 5/13/19 and ends at 3:00PM ET on 5/17/19. Enter on Instagram by following the instructions on @ruelala's Sweepstakes post or via email. Click here for Official Rules. Sponsor: Rue La La, a division of Retail Convergence.com, LP, 20 Channel Center 3rd Fl., Boston, MA 02210.