Refinery29

| Rachel Lubitz
Scroll through Kim Kardashian West 's Instagram on any given weekend and you'll be sure to see: a gigantic floral arrangement, dispatches from a private jet, promo for her latest KKW Beauty launch, and if you're lucky, videos and pictures of her daughter North West playing with makeup and sometimes even roleplaying as her mom's makeup artist.
In an interview with Refinery29 for the launch of KKW Fragrance, Kardashian West says that she is all too aware of West's makeup fascination.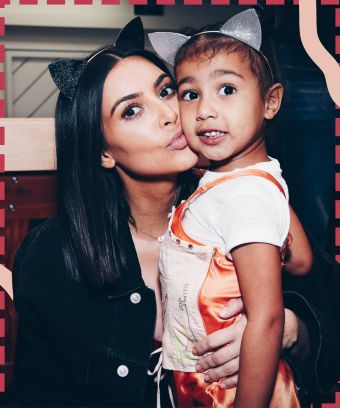 Credit: Getty Images
"I already know North is into makeup for sure," Kardashian West says. "She had friends over this weekend and some of her girlfriends came and they were just all in her room, giving themselves makeovers. I was like, OK, she's really, really into makeup. When companies send makeup and I have a lot, I'll give it to her."
But Kardashian West also wants to enforce some rules for North — who just turned five this summer — and told us she plans to take the same approach as her late father, Robert Kardashian. "I remember when I was 14, my dad for Christmas got me a makeup class," Kardashian West says. "And I went to makeup school. He was like, 'I don't want you girls looking crazy. If you're gonna wear makeup, I want you to learn to do it in the right way.' That was really helpful and I think I will take a cue from that. I'm definitely going to set guidelines."
Though in the Kardashian West household, those guidelines will be pretty liberal. "I don't think she should wear lashes or too dark of a lipstick," Kardashian West says. But she also recognizes that makeup is about more than just flaunting particular facial features. "It is a form of expression," she says. "So I want her to express herself, but I want her to be appropriate, too."
This article was written by Rachel Lubitz from Refinery29 and was legally licensed through the NewsCred publisher network. Please direct all licensing questions to legal@newscred.com.