Why does it always feel like our schedules go into overdrive after Labor Day? Whether it's back-to-class deadlines, the end of Summer Fridays, or a noticeable absence of vacays on our calendars, we're feeling a little more strapped for time.
This fall, we're reclaiming that dinner-on-the-porch, glass-of-rosé feeling from summer. With HelloFresh, those relaxed moments are possible. How? The meal kit delivery service lets you skip the grocery store and spend way less time on cleanup (hello, one-pot meals). Cutting, chopping, and measuring are basically things of the past.
Bonus: That cool-weather comfort food you crave gets a clean makeover. Think responsibly sourced proteins and farm-fresh veggies, like this Pork and Apple Meatloaf with Creamy Mashed Potatoes and Green Salad.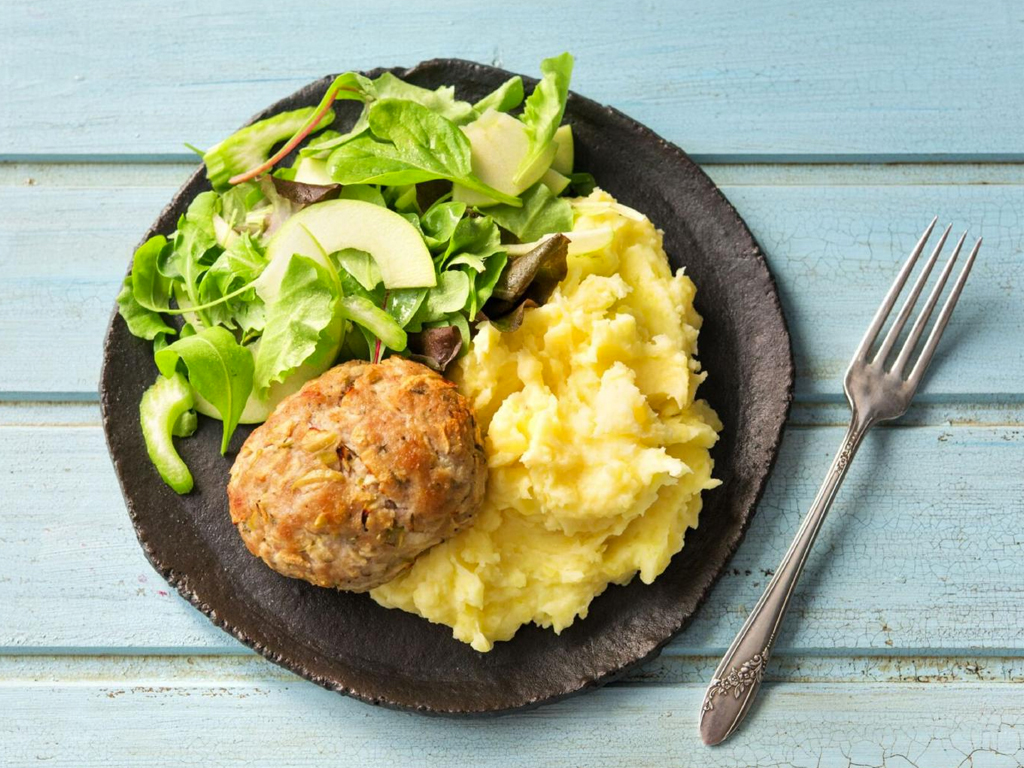 Credit: HelloFresh
Pork and Apple Meatloaf with Creamy Mashed Potatoes and Green Salad
Ingredients
20 oz. ground pork
½ cup panko
2 shallots
4 tablespoons sour cream
2 celery stalks, thinly sliced
2 Granny Smith apples
1 teaspoon dried rosemary
24 oz. Yukon potatoes
4 oz. spring mix
4 tablespoons balsamic vinegar
2 tablespoons butter
Salt and pepper to taste
Instructions
1. Wash and dry all produce. Preheat the oven to 425 degrees. Cut the potatoes into one-inch pieces. Place in a large pot with a large pinch of salt and enough water to cover. Bring to a boil. Cook about 15 minutes, until fork-tender. Reserve ½ cup cooking liquid, then drain.
2. Meanwhile, halve and core one apple. Using a box grater, grate the cored apple into a large bowl. Peel and grate the shallots into the same bowl. Add the panko, pork, and rosemary. Season with salt (we used 1½ teaspoons kosher salt) and pepper. Thoroughly combine with your hands, and form into four loaves, approximately 1½ inches thick.
3. Place the loaves onto a lightly oiled baking sheet. Bake about 18 – 22 minutes, or until cooked through.
4. Once the potatoes have been drained, heat the butter in the same pot. Return the potatoes to the pot along with the sour cream. Mash with a fork or potato masher until smooth, adding as much cooking liquid as needed for a creamy consistency. Season generously with salt and pepper. Cover and set aside.
5. Thinly slice the celery on a diagonal. Core and thinly slice the remaining apple. Toss the apple slices, celery, and spring mix in a large bowl with a drizzle of balsamic vinegar and olive oil. Season with salt and pepper.
6. Serve the pork and apple meatloaf on a bed of creamy mashed potatoes with the green salad on the side. Enjoy!
By Grady Ross, Staff Writer