PureWow
It happens to the best of us: Summer hits. You hear the call of the wild. You want to commune with nature. But you just really like modern conveniences – like pillows. Good news! The camping scene has been drastically updated (think gourmet s'mores and actual showers). Here are eight ways to have a totally comfortable, enjoyable, and all-around delicious camping experience (without sleeping on the ground with a rock in your back).
Credit: Airbnb
Sleep in a Tree House
Live out your childhood dreams of hanging out all night in a tree house – just now with running water and a comfy bed (oh, and a toilet). Airbnb now offers little cottages from Georgia to Hawaii, and even in the U.K., for an elevated camping experience like none other. We're about to book the one with a wood-fired lunar sauna.
Airbnb Trees & Zzzs ($37 to $350 per night)
Credit: The Glam Camping Co
Pitch an Awesome Tent
If you still want to pitch your own tent, though, go for it. Just make sure it's a new bell tent that's roomy enough for your comfy poufs and pillows and totally waterproof and cute enough for your Instagram feed.
Credit: Pexels
BYO Bed
You're a grown woman: You should wear only nice lingerie and you should never be caught in a sleeping bag. A portable inflatable mattress and frame is your M.O. for sleeping alfresco. Not only is it better for your back, but it means you'll be off the ground and away from any creepy crawlies. Not today, night bugs. Not. Today.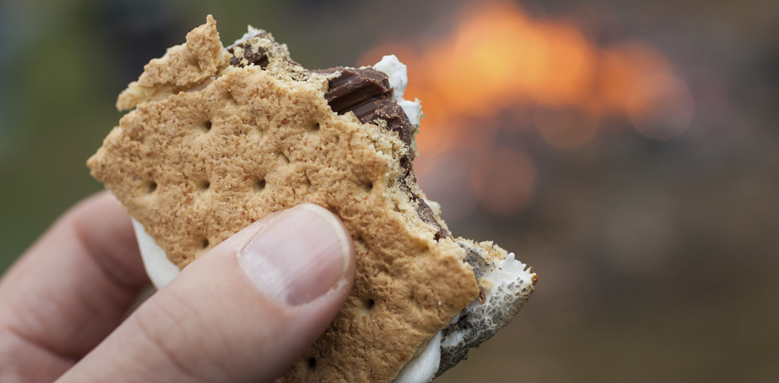 Credit: Getty Images
Eat Cool Campfire Food
Let's cut to the chase: Vacation is as much about the food as anything else, and your pleasant camping jaunt is no exception. These days, food lovers pack gourmet mint chocolates for grasshopper s'mores, and retro foil-wrapped campfire dinners are back.
Credit: Amazon
Make It Twinkle
Hang your own battery-powered string lights around your camp, because they're pretty. Enough said.
Credit: The Glam Camping Co
Use Real Drinkware
It feels a lot more sophisticated than wine in a Solo cup, and an acrylic version means no harm, no foul when one gets stepped on.
Credit: Olive Magazine
Fill a Growler with Iced Coffee
Hey, just because you're spending a few days off the beaten path doesn't mean all lifelines need to be cut. Stick this in your cabin's mini fridge or in a cooler. And if your camping trip is on the shorter side, a super-cute S'well steel water bottle will also do the trick.
Credit: Twenty20
Pack a Shower
Yes, a battery-operated handheld shower. But if you're just going for an overnighter, Yuni shower sheets will do just fine.
This article from PureWow was legally licensed through the NewsCred publisher network.