Fashionista

| Maura Brannigan
Credit: @coach/Instagram
Coach Inc. – owner and operator of such accessible-luxury brands as Coach, kate spade new york, and Stuart Weitzman – has made it abundantly clear that if any fashion group is going to become the first great American luxury conglomerate, it will be the one to do it. And while the company already has both the leadership and the burgeoning portfolio to make these ambitions a reality, a name change was also, apparently, in order. On Wednesday, Coach Inc. announced its plans to rename itself Tapestry Inc., effective October 31, 2017. (The company's stock, currently traded on the New York Stock Exchange under the symbol COH, will change to TPR on that same date.)
In a statement, Coach Inc. CEO Victor Luis discussed that though the company laid out its initial vision to grow beyond the Coach brand three years ago, only recently has the group found itself in a place where it can move forward. "We are now at a defining moment in our corporate reinvention, having evolved from a mono-brand specialty retailer to a true house of emotional, desirable brands, all leveraging our strong operational foundation," said Luis. "Each of our brands has a unique proposition, fulfilling different fashion sensibilities and emotional needs within the very attractive and growing $80 billion global market for premium handbags and accessories, footwear, and outerwear."
Credit: @coach/Instagram
As far as the new moniker, Luis stated that Tapestry expressed its brands' shared values of optimism, inclusivity, and innovation and also reflected the cultural diversity of its portfolio. "In Tapestry, we found a name that speaks to creativity, craftsmanship, authenticity, and inclusivity on a shared platform and values," said Luis. "As such, we believe that Tapestry can grow with our portfolio and with our current brands as they extend into new categories and markets." In layman's terms, he told the New York Times it was important to find a name that "wasn't too corporate-y or made up, that was easy for everyone to understand."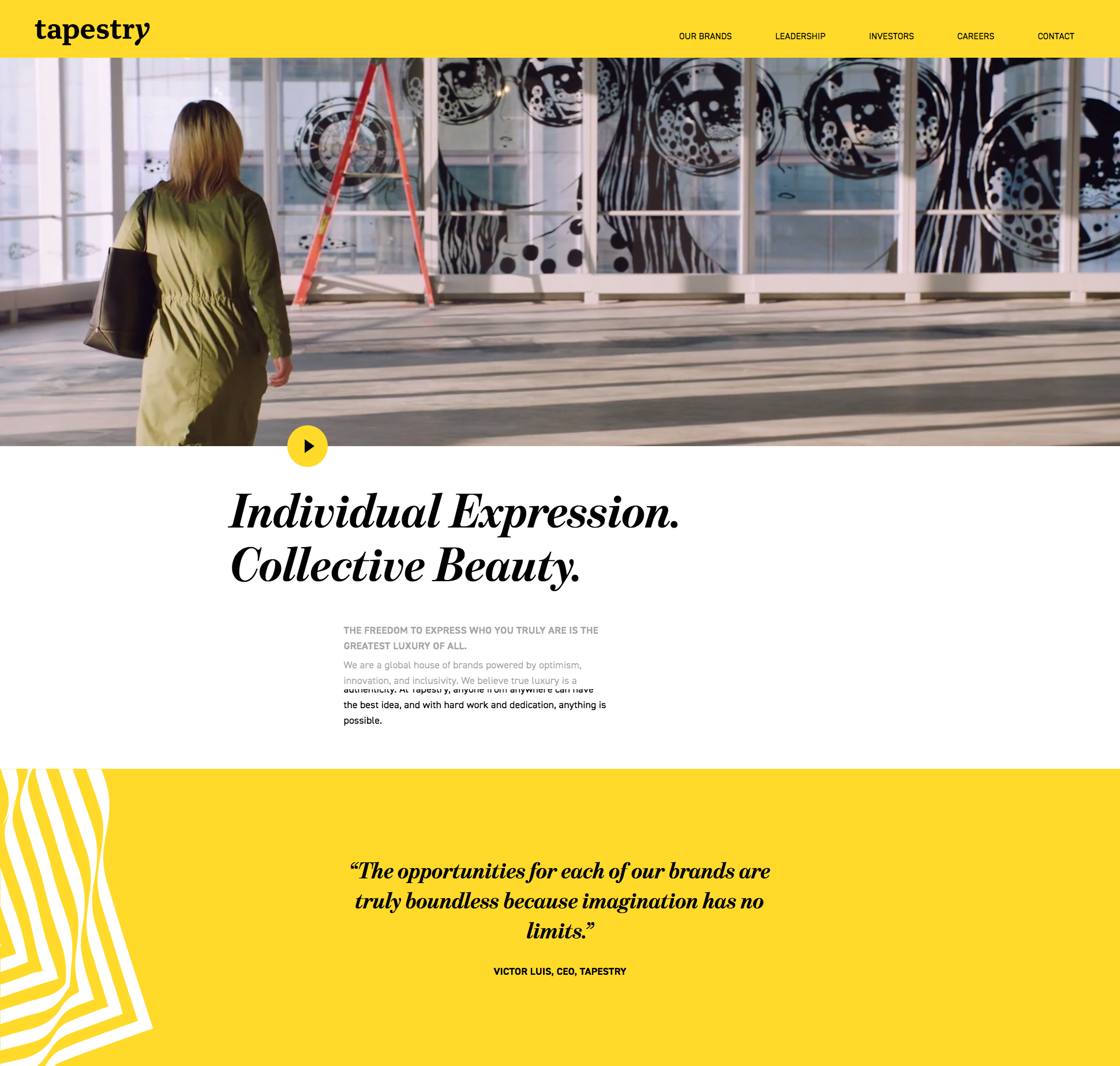 Credit: Tapestry.com
Luis also referenced a distinct, heritage-led corporate identify to which Tapestry alludes, which he believes allows for its brands to "express [its] individual personalities and unique language to the consumers." Tapestry's newly revealed aesthetic is, in fact, quite corporate, having partnered with Carbone Smolan Agency – which has previously worked with Musée du Louvre, Credit Suisse, and the Museum of Modern Art – on all aspects of the rebrand.
With a new identify all but official, Coach Inc. is moving forward after the notable stock dip – and subsequent lift in shares – that followed its kate spade new york purchase. It will be interesting to see where its rebrand will take the company in 2018; perhaps we'll hear more about its long-rumored Bally and Jimmy Choo acquisitions in the months ahead.
This article was written by Maura Brannigan from Fashionista and was legally licensed through the NewsCred publisher network. Please direct all licensing questions to legal@newscred.com.