Fashionista

| Dhani Mau
Luxury executives have really done their jobs when a brand can charge upwards of $1,200 for a handbag that not only brings about consistent sell-throughs, but also, in some cases, commands wait lists. It's not easy: North American labels like Coach, Michael Kors, and Tory Burch have been forced to lower their handbag prices recently, and Mulberry's former CEO ushered in several consecutive quarters of sales decline at the brand by raising the prices of its handbags – and thereby alienating existing customers – back in 2013. However, a few luxury houses have managed to whip up the right mix of marketing, classic design, and exclusivity to produce bags that have stood the test of time, both in terms of aesthetic and monetary value. Unlike a lot of things that fashion people like to call "investment pieces," these handbags are actually worthwhile investments.
You may not make a significant profit by buying a Chanel flap bag or Goyard tote and selling it in a few years, but if you maintain it well, you could recoup the majority of your investment. We polled three prominent luxury consignment sites – The RealReal, Tradesy, and Poshmark – on which bags have had the most consistently high resale values over the years. Rather than bags of the moment like, say, the Mansur Gavriel bucket bag, we focused on true classics that have been selling out for years and will continue to inspire lust for years to come. (Not that Mansur Gavriels won't become classics – we just aren't sure yet). The results were more or less unanimous. "Hermès, Chanel, and Goyard hold their value the best," says a rep for Tradesy. "Due to high demand for new, classic, limited-edition, and even vintage styles, sellers can actually earn more than the retail price they paid for these brands."
According to a rep for The RealReal, which exhaustively authenticates the handbags it resells, a Louis Vuitton Neverfull can resell for 84% of its original value, while a Chanel Boy bag can earn back 82%. And a recent study by Baghunter claimed that Hermés Birkin bags increase in value by 14.2% on average each year, and that they're a better investment than stocks or gold. Seriously.
So without further ado, check out the five classic handbags that are most worth investing in. For more tips on making (and selling) fashion investments, head here.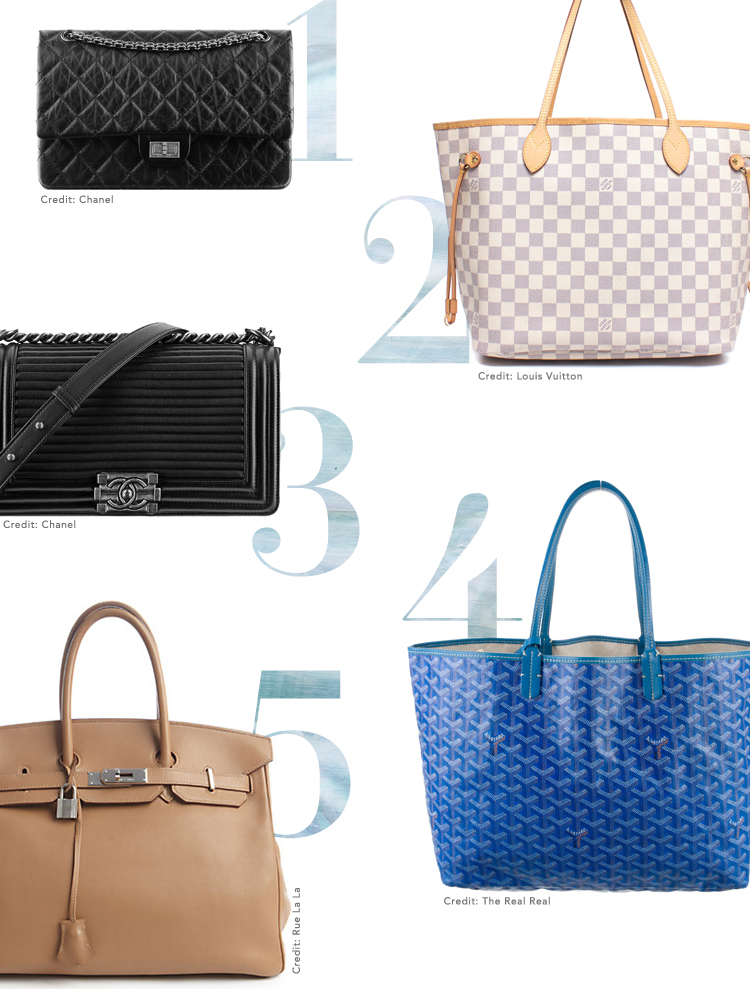 This article was written by Dhani Mau from Fashionista and was legally licensed through the NewsCred publisher network.